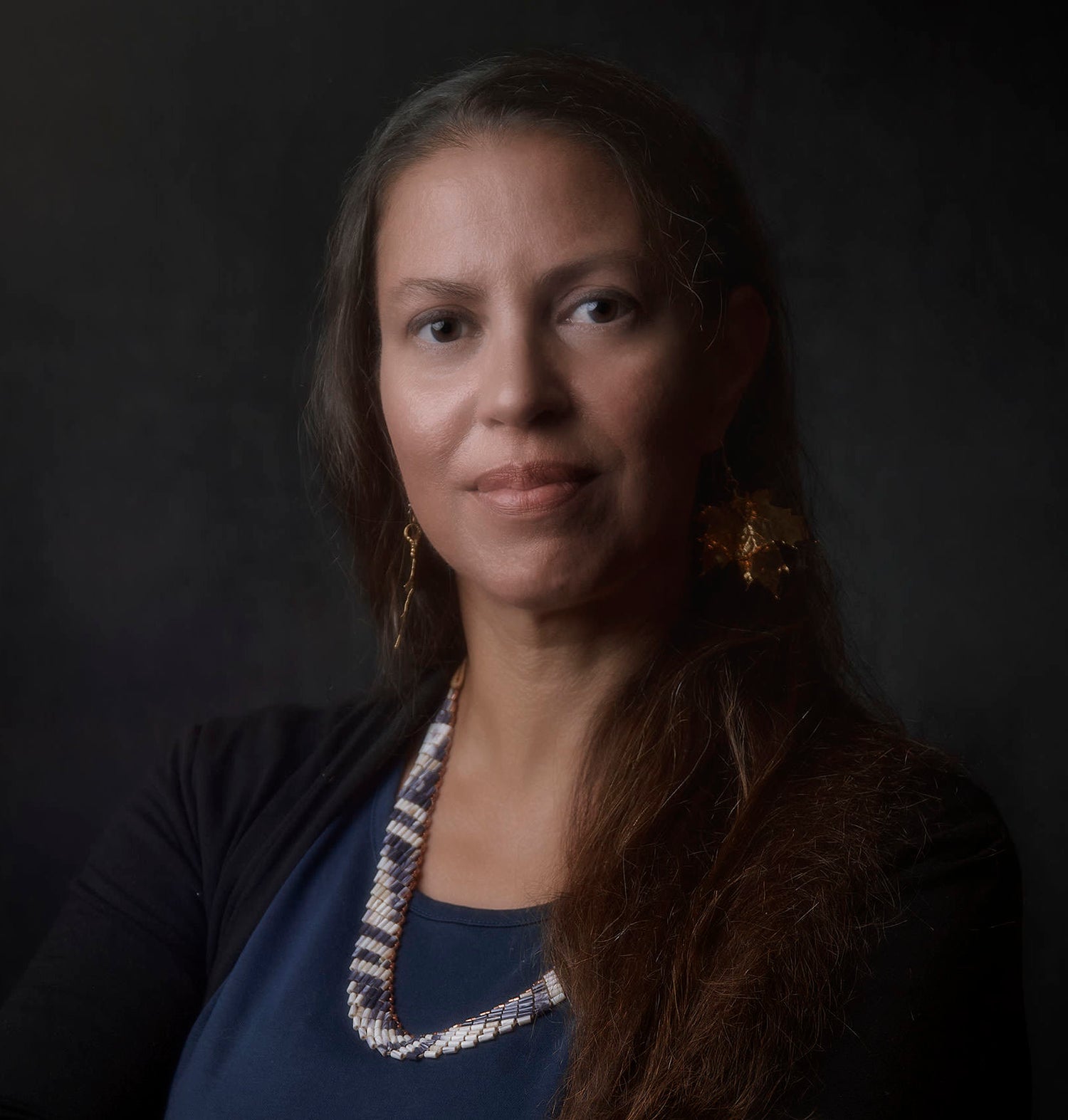 About the Artist
2023 NEA Heritage award recipient Elizabeth James-Perry (Aquinnah Wampanoag) engages with Northeastern Woodlands Native cultural expressions, primarily in sculptural forms of wampum shell-carving and bead-making with its connection to identity and sovereignty, maritime traditions and restorative Native gardening. Her newest work is a Sea Turtle Mound garden created with the Native students at Amherst College. Following Another Crossing, the artist collaborated on a bead film looks at beadmaking of Native shell carvers and industrialized glass bead factories.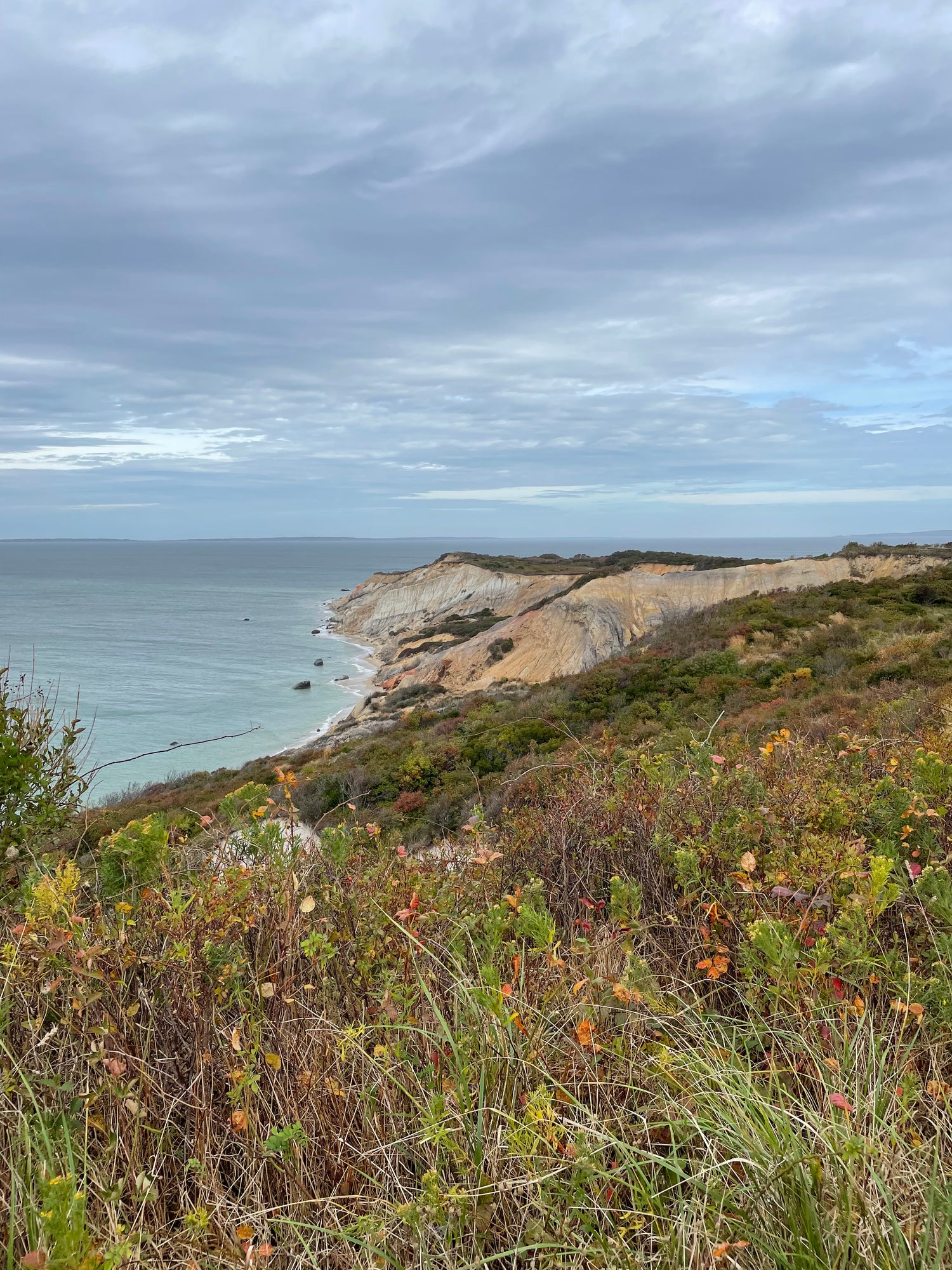 Her artwork has been commissioned at institutions including the Museum of Fine Arts, Rhode Island School of Design Museum, and Allard Pierson Museum. James-Perry counts scrimshander Patricia James-Perry, Nanepashemet and Dr. Helen Attaquin as key mentors. She was a C. W. Morgan 38th Voyager as a Wampanoag whaling descendant. Employed for years with the Aquinnah THPO, the artist is concerned with sustainability and Native lifeways, and holds a degree in Marine Science. Upcoming art exhibits include Double Arrows at Tufts University and Seeping In at the Mead Museum.

Artist Statement
I enjoy opening each quahog and observing their heft, the unique layered purple tones, and the story I sense unfolding as I carve and drill fairly thick and three dimensional wampum beads, jewelry and rich diplomatic adornment. I employ wild-harvesting to highlight ancient ties to homelands in Massachusetts and Eastern Rhode Island, and share my distinctive perspective as a self-reliant Aquinnah Wampanoag woman. Hours spent onboard vessels for in-shore and off-shore fisheries research afforded the experience of life on the Atlantic ocean; that fluid sense of home my whaling ancestors had to have. My authentic wampum jewelry, Bear maps and gardens are interventions: sustainable art and placemaking that engenders creativity and keeps me rooted in the seasonal cycles here. It is restorative to the post-colonized Indigenous spirit.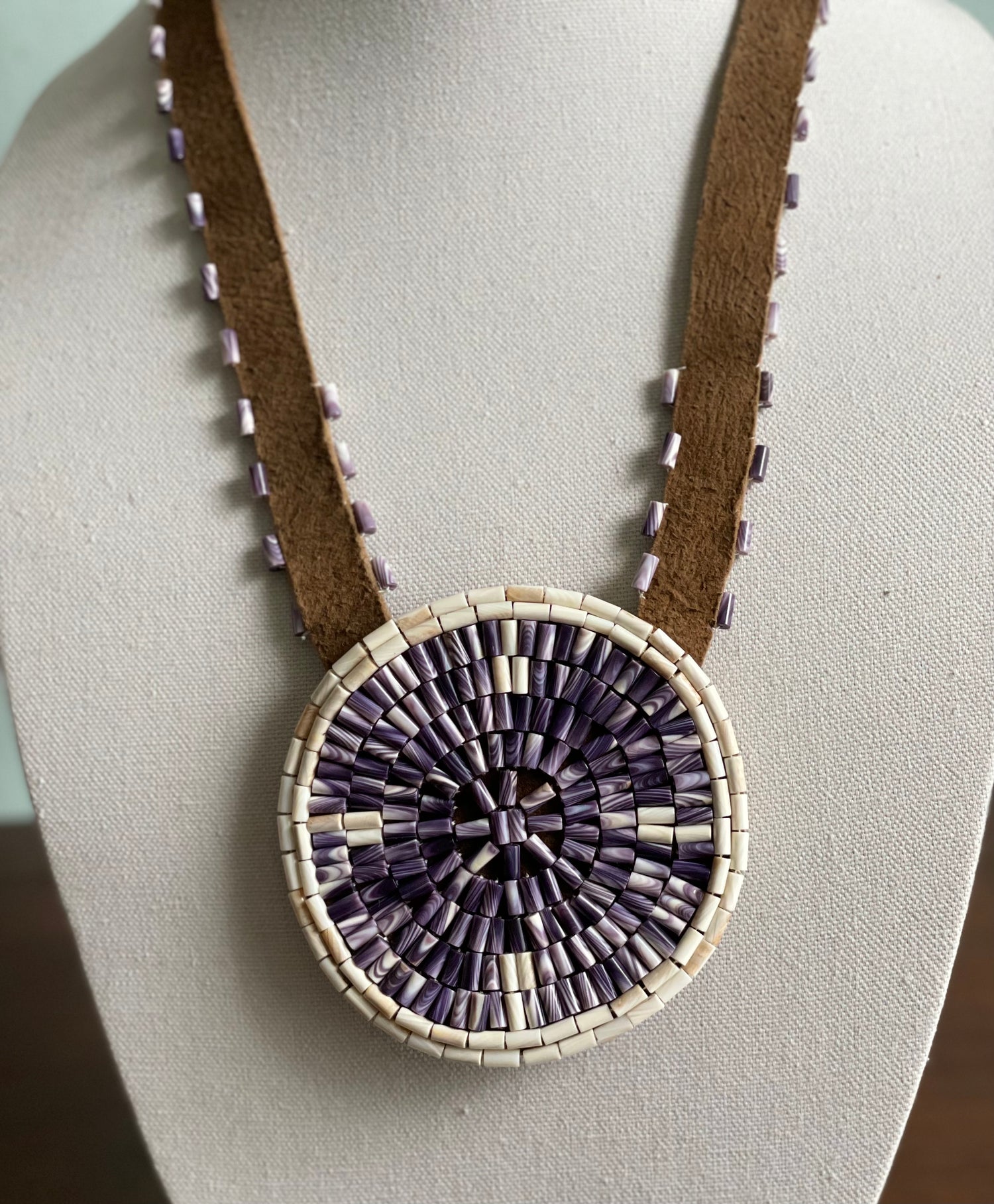 Selected Collections and Exhibits
Left: Wampum Leadership Medallion 2022 in the permanent collection at MFA Boston

Upcoming 2023:
Amherst College, Mead Museum 
Boundless group exhibit  

Solo exhibit: Seeping In, Coursing Through
Mead Museum, Amherst, MA
September 12, 2023-January 7, 2024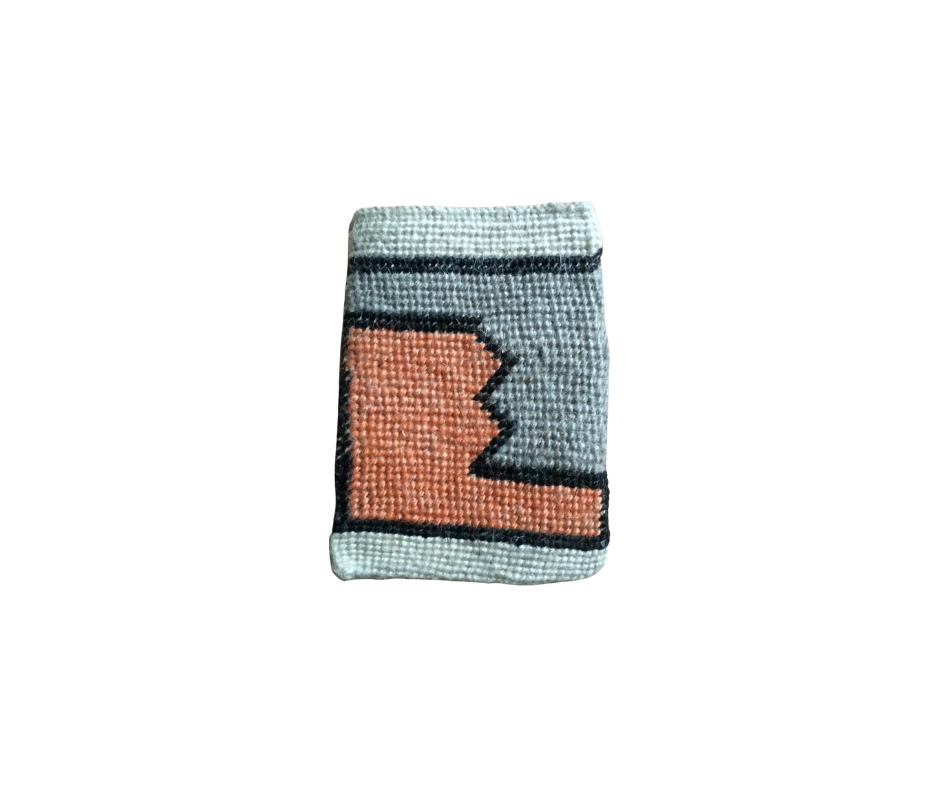 Peabody Essex Museum On this Ground: Being and Belonging  Salem, MA 
2022-present
Permanent collection: Wampum Alliance
collar, diplomatic status piece of fine purple and white shell beads with a luxurious
drape, edged in copper trade beads.
 
Montclair Art Museum
Montclair, NJ  2022, 2023
Permanent collection: Birds Wing (shown right) patterned twined envelope bag, contemporary design in organic hand-spun hemp, natural permanent dyes; Square Leadership Medallion wampum on deerskin.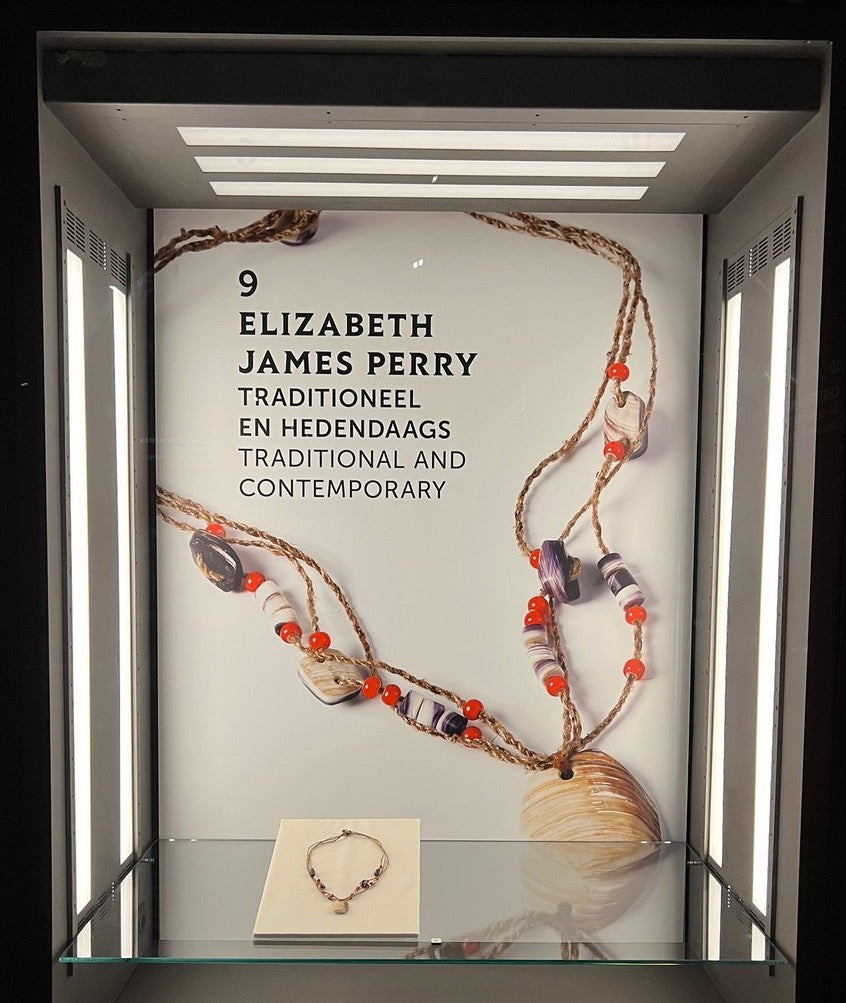 Troopen Museum
Our Colonial Inheritance   
Amsterdam, NL 2021
Permanent collection: Wampum collar of woven wampum shell beads and copper beads.  
New Bedford Whaling Museum
Ripples: Through a Wampanoag Lens 2020-2021
Solo exhibit. Click here for the Jared Bowen in an interview on
PBS. Permanent collection: Thunderbird belt and Maushop's Gorget.
Fuller Craft Museum
Box Museum   
Another Crossing Brockton, US Plymouth, UK
Wampum cuff, red trade
beads, naturally dyed milkweed.
Wallraf-Richartz Museum
 Cologne, Germany 2018   
Once Upon A Time in America Permanent collection 
Oregon Shakespeare
Festival  
World premiere of Manahatta 
Portland, OR 2018 also at
Yale Repertory Theatre  Manahatta 
Hartford, CT 2020
New Bedford Whaling
Museum 2018
Capt. Paul Cuffe: His Work, Vision & Living Legacy
Permanent collection
Teachings of the Tree People 2018
Evergreen College Longhouse Program

Tears of Dukwibahl 2017
Evergreen College Longhouse Program

Charles W. Morgan Whale Ship Newport RI & Marthas Vineyard, MA 2015

Boston Children's Museum
Native Voices: New England 2012
Tribal Families Exhibit
From top left, clockwise:
-Woven Naturally Dyed Porcupine Quill Cuff Bracelet for the People of Musketaquid exhibit in Concord, MA
-Closeup on necklace for Allard Pierson Museum-Cuffee Exhibit Twined Basket
-Tropen museum closeup of bias collar
-Twined naturally dyed envelope bag and wampum belt on milkweed in RISD Museum Exhibit Being and Believing in the Natural World 2022
-From Seeping In, Coursing Through at the Mead Museum